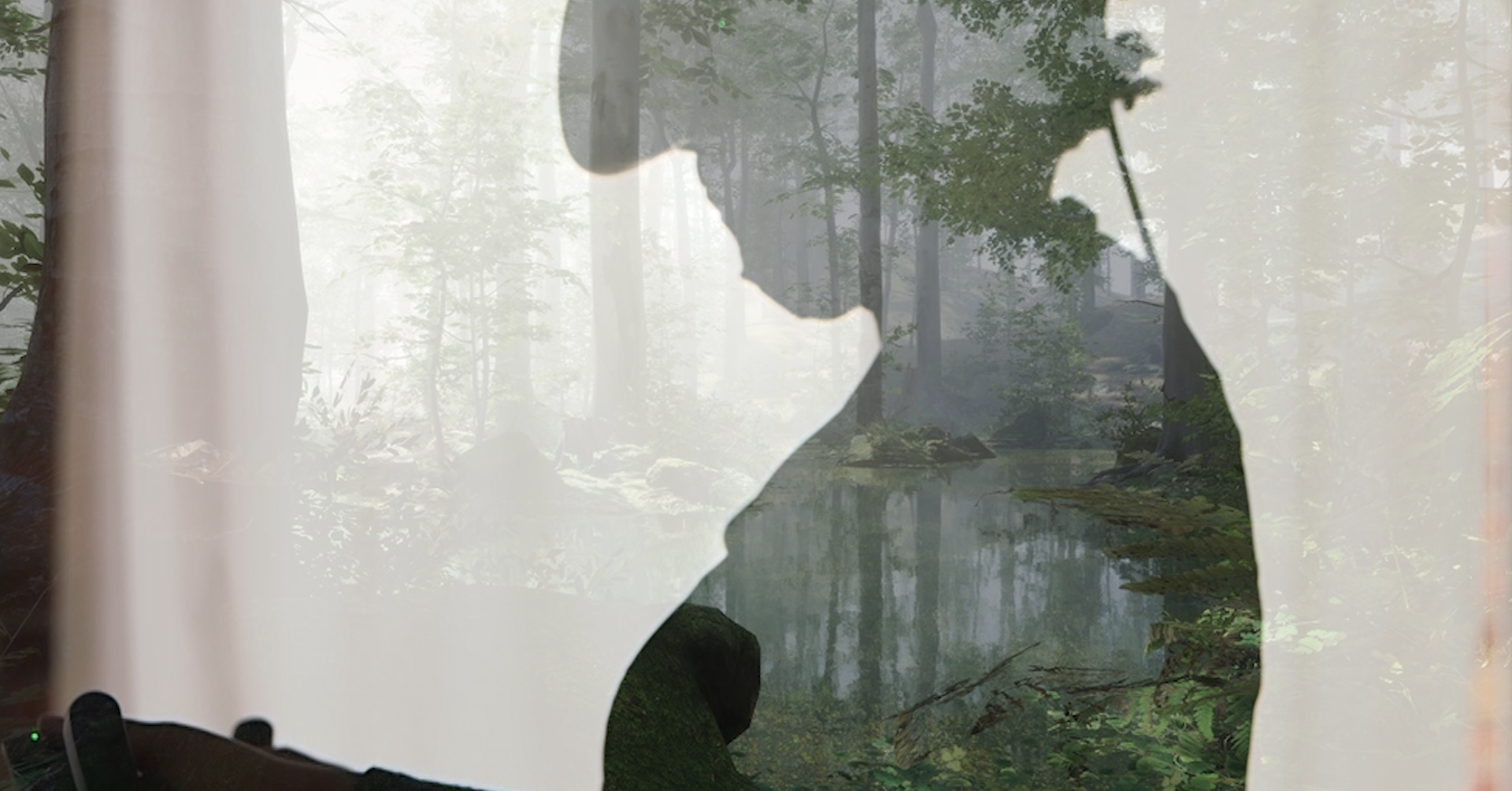 Sara Lisa Vogl
Tosca Hidalgo y Terán
Symbiosis/Dysbiosis
|
conceptual verification with test subject feedback
Boreal forests, or taiga, represent the largest terrestrial biome. Forests occupy approximately one-third of Earth's land area, account for over two-thirds of the leaf area of land plants and contain about 70% of carbon present in living things yet despite this significance, humankind continue to have an unbalanced, parasitic like relationship to this important biome.
Ultimately, it is up to the Humans and how they respond within this environment that determines how the non-humans react and respond. Whether the non-Humans choose to pair for Symbiosis, which can lead to evolution or Dysbiosis, which can end in a COVID-19 scenario, or worse.
Terán and Vogl met during New Nature, An Immersive Media and Climate Science Exchange between Canada, Germany, Mexico, and the US hosted by the Goethe-Institut Montreal, curated by Samara Chadwick that took place in May 2020.
Terán's practice resides in physical, material and sound based works. Vogl's immersive VR environments and expertise, in combination, take both practices into another realm; combining material/physicality with VR which will culminate in a multi-sensory experience.
For the Remote Realities residency Terán and Vogl proposed a fully immersive, mixed reality experience working with AR/VR, living mycelium biodata-sonification, EEG and, soft-circuit-tactile interfaces. The virtual environment is home to microbial and fungal organisms that dwell in dirt, air, and water within a Boreal forest.
Due to COVID restrictions Terán, and Vogl worked together towards a scaled down, conceptual verification, with test subject feedback. Within their VR environment realtime fungal biodata-sonification reacts and responds to human touch.
In order to integrate living mycelium biodata within the VR environment neuroscientist/media artist Brendan Lehman was brought into the project. Brendan's expertise in coding EEG data interactions in VR was a perfect match. Working with Ganoderma lucidum (Reishi) and Pleurotus ostreatus (Oyster mushrooms), and Tosca's bio-sonification modules realtime fungal reactions were brought into Unity.
For the touch aspect Valve Index 'knuckle' Controllers are being used. Valve Index Controllers let you reach out and grab an object directly. Each controller uses 87 sensors to track hand position, finger position, motion, and pressure to determine user intent. Every hand is different, so the controller constantly re-calibrates itself to match your hand size and changing skin capacitance. Vogl intends to further develop touch nuances for the VR experience.
This is a work in progress.
On October 19th, 2020 Terán, Vogl, Lehman and artist Lorena Salomé were awarded a New Nature R&D grant from the Goethe-Institut Montreal for Symbiosis/Dysbiosis. The Jury, comprised Christina Landbrecht, Program Director, Schering Stiftung: Connecting Art and Science, Marie-Pier Gauthier, Producer, National Film Board of Canada, Montreal Interactive Studio, and Paola Santos Coy Licona, Director, Museo Experimental el Eco, Mexico.
Links + Resources
Sara Lisa Vogl
Sara Lisa Vogl is an immersive media artist and futurist who collaboratively explores and constructs new virtual and augmented realities to inspire, unite and enrich humanity. A background in communication arts & interactive media and in love with the idea of new worlds it is Sara's mission to go beyond the status quo of what immersive virtual realities are and explore their diverse potentials for the future. In her current engineering studies, learning about humanoid robotics, the Berlin based futurist is deepening her knowledge about sensors, haptics and the intersection between algorithms and real worlds.
Tosca Hidalgo y Terán
Tosca Teran is an interdisciplinary artist working at the intersection of art and ecology. Tosca feels the most dangerous disease of humankind is the inability to imagine the world from another person, animal, and/or plant's perspective. Her work in nonhuman bio-sonification, bio-materials, and immersive mixed reality environments strive to overcome these biases. In 2019 Tosca was one of the first Bio-Artists in residence at the Museum of Contemporary Art Toronto in partnership with the Ontario Science Centre, as well as a recipient of the 2019 BigCi Environmental Award at Wollemi National Park to further explore her work in bio-sonification of fungi and trees with local mycologists and botanists throughout Wollemi, the Sydney Botanical Gardens, and with Māori rangers concerned with Kauri dieback at the Arataki Visitor Centre, New Zealand.