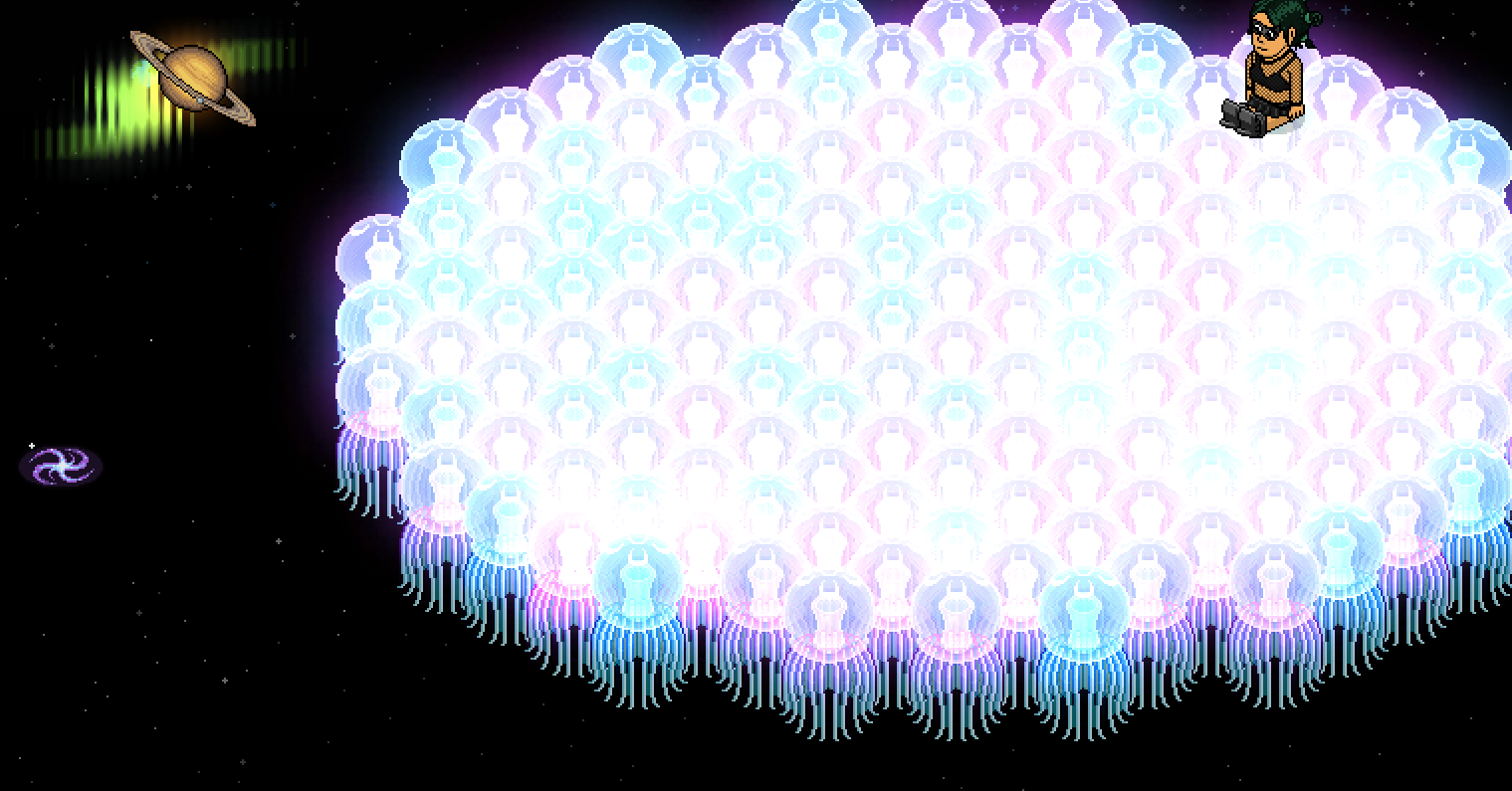 Rebecca Sweets
Through the Virtual Aether
|
Through the Virtual Aether
Through the Virtual Aether by Rebecca Sweets is a live-guided exploration, discussion, and immersive audio experience through Habbo, a pixel art based virtual world. Habbo's user activity has tripled since the pandemic, most being former users now in their 20s revisiting the platform for nostalgia.
The event aims to consider how social media platforms induce feelings of isolation and loneliness in their users by design. We'll explore this by analyzing the mechanics of intimacy and play in MMO virtual worlds contrasted with the inherent isolation built into broadcast-based social media platforms. As we journey through 10 colourfully user-made themed rooms, our conversation will delve into topics regarding digital wellness, social capital, virtual identity, and online disinhibition. More than just a tour, this program intends to be a space for candid reflections on what makes us feel safe and meaningfully connected with others on the internet. How can social media make us feel insecure and isolated? How can we think critically about our daily online experiences?
Here is a collection of 100+ screencaptures showcasing my last 6 months on Habbo. Moments of longing, loneliness, lulz, escapism, roleplay, bumping into a pal from high school, a Black Lives Matter protest, abandoned house exploring, and many more.
Is an avatar something you hide behind with a persona?
Or does it give you the agency to be your authentic self without fear of judgement?
Is your Instagram profile an avatar of yourself?
What are the limitations of authenticity on broadcast based social media?
How can we create space for meaningful connection online?
Do you have in-depth conversations with the people you virtually interact with?
Why scroll for hours when you're depressed?
Has your phone become a digital pacifier?
Do your methods of escapism numb you?
Are you loved or are you consumed?
To register for the November 7th tour, please create a Habbo.com account and submit the following form.
Links + Resources
Rebecca Sweets
Rebecca Sweets is a Toronto-based multidisciplinary artist, troublemaker, and doll collector. Through investigative, dialectical, and immersive methods, her mediums combine tangible, performative, and interactive storytelling. Her practice involves themes of virtual intimacy, slow web/slow art and vulnerability as power. She also co-runs PRUDEmag, a zine for spinsters, rule-makers, asexuals, relationship anarchists, & all resisting a sex-necessary culture. You can find her at rebeccasweets.com.